Review of "Tips & Tools for Managing a Profitable Photography Business"
Okay, be honest with me…how many of you loathe the business side of photography? I mean, I want to make money doing what I love…I really truly do, but I'd much rather be playing with my camera than bookkeeping. In fact, if you ask me about photography I'll gladly chatter away about sessions and lighting techniques and lenses…especially lenses. I love spending money, I'm just not so great at making it.  It's been a point of contention between my better half and I since I first decided to make this hobby a business.  I loved photography and wanted to be "legit" so I applied for my business license.  How hard can it really be? As it turns out…hard. After all was said and done last year I came out right around a nice fat "0".  This year is looking about the same.  And I am swamped. I have a large client base and have been fully booked for months.  I had no idea where I was going wrong until I vented to a fellow (and actually profitable) photographer.  I told her about how overwhelmed I am with the business side of things and how I would really like to become profitable so that this passion I have for what I do doesn't turn into complete burnout. She recommended Foto-Flow might be a good tool.  Hello Foto-Flow. You are my new best friend. Love, Me.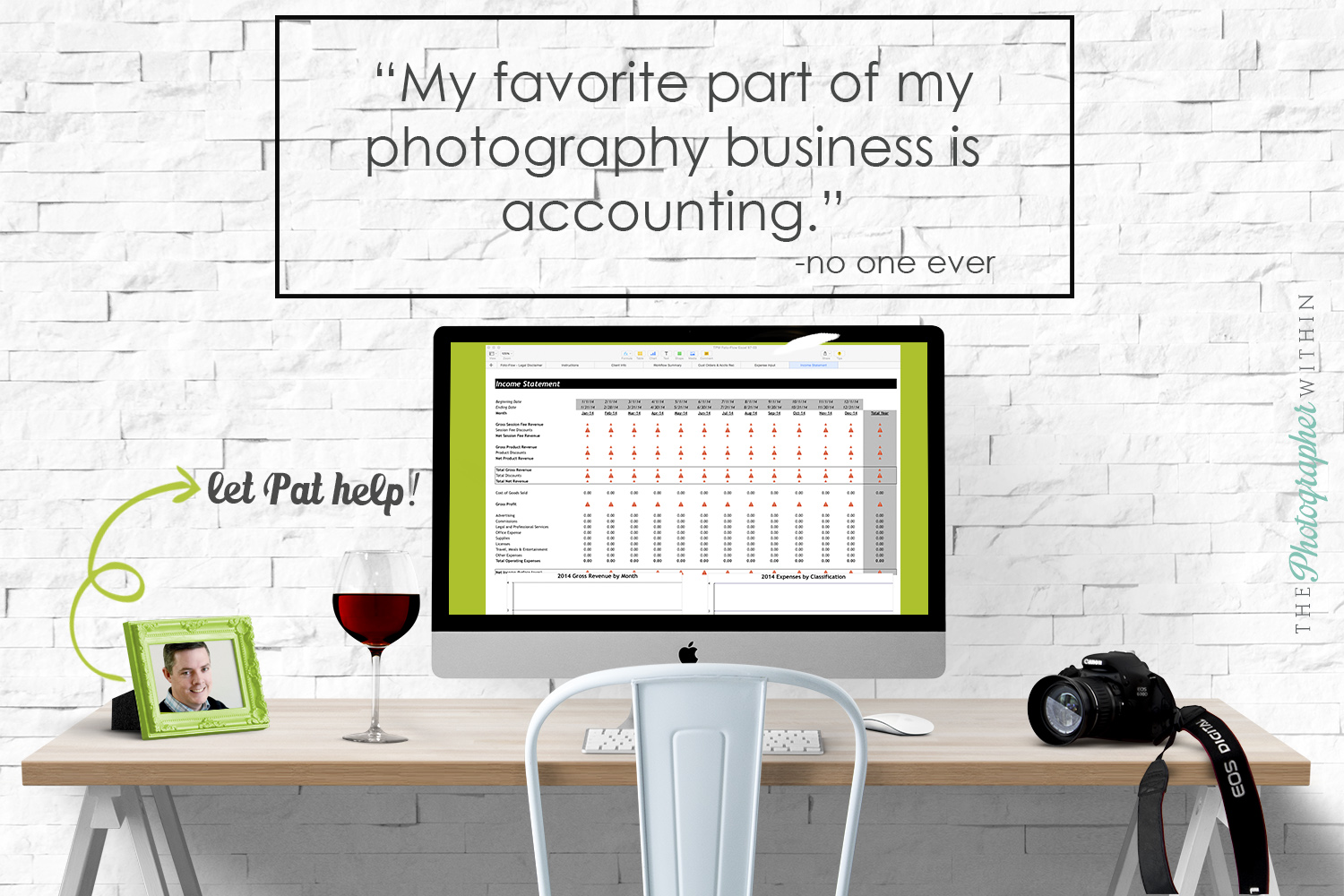 Seriously, I am in love with this program.  It's by far the best organizational tool I've found for photographers, very simple to use (and it comes with detailed instructions and tips), and makes it so much easier to see where my money is being spent, where I am profitable etc.  Foto-Flow is an excel based program.  There are five detailed tabs that are fully customizable (but impossible to mess up) that work in tandem with one another.  There are sections for client information, expenses and accounts receivable that are invaluable but my favorite sections are the Workflow and Income Statement.  In the Workflow Summary I get to customize tabs according to my specific workflow steps (ie: collected deposit, Facebook Sneek Peek, etc).  If I have yet to complete steps on a client's session, those steps will appear in red. When I have completed a step, they are green.  The Income Statement pulls everything together in an easy to read one stop shop as to what my year looks like. All expenses, profits, taxes…it's all there. Not only that but there are an assortment of wonderful line graphs and pie charts attached that show my profitability by month, operating expenses allocation and more.  The best part? The income statement is all done for me! The formulas have been created and my client and expense information along with anything else pertinent auto populates right into the Income Statement.  Another nice feature is the "notes" section included with every tab.  No more random post it notes and backs of receipts searches for this girl.
The "Tips and Tools For Managing a Profitable Photography Business" mini workshop at The Photographer within includes the Foto-Flow program along with an informative PDF that discusses the logistics of starting a profitable business.  The price of the mini workshop also includes access to a private forum where you can ask questions of Foto-Flow creator, CPA Pat Green.  From developing a mission statement to what type of product to offer, hobbyists on the fence to new business owners alike will benefit.  While I already have a business, I will be incorporating much of Mr. Green's advice to hopefully bring some profit into this business of mine! Thank you for this incredible tool Mr. Green! My husband thanks you too. 😉
---
Melissa Daughters
Melissa Daughters lives in beautiful Bellingham, WA with her better half and most photographed subjects, her three little boys. When she isn't behind a camera she enjoys travel, camping, board games, wine, and coffee.