2014 TPW Team Favorite Things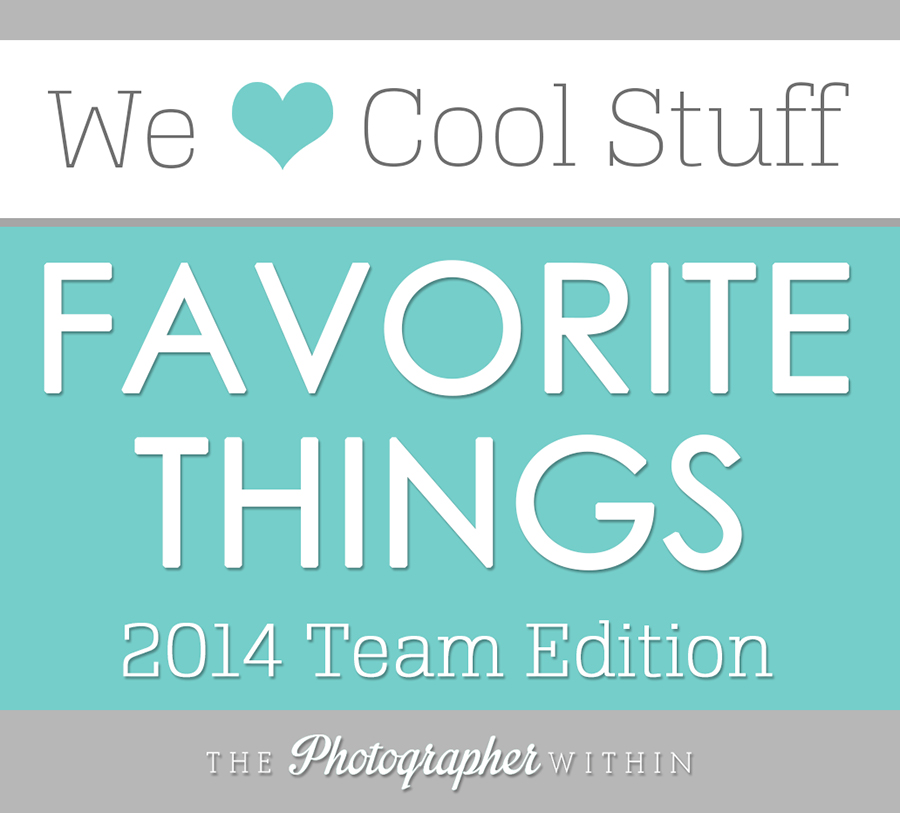 Looking for holiday gift ideas?  Earlier this month we shared a list of our members' favorite things, and today in honor of Cyber Monday we want to share a list of the team's favorite things.  We asked TPW team members to tell us about products and services they use and love, either photography-related or not, and here is what they said.   Get ready to update your wish lists!
Holly Anissa
New Braunfels, TX

iPhone 6 Plus
Initially nervous about upgrading to a phone this big, my fears have been quelled. I LOVE my new iPhone. The graphics and retina display are crazy sharp and the colors rich. Being a shaky shooter, the extra image stabilization in the camera is what pushed me over the edge in going for the Plus. Photos and videos are crisp, clear, and beautiful. I haven't touched my iPad since getting my phone.
Amazon Wish List
I run across products that I want for myself and my family all the time. Using Amazon's Universal Wish Lists, I can keep track of items I want to buy for each member of my family without them knowing what I've noted. I can also pin/bookmark/add things I want for myself… and my own wish list is quite long!
Simple Oil Balancing Cleansing Wipes
At the end of a long, busy day, taking off my makeup is a chore. I have very oily skin, so when I discovered these facial cleansing wipes, I was instantly smitten. With one wipe, I can remove all of my makeup and leave my skin oil-free without being overly dry.
Eucerin Intensive Repair Lotion
I use this lotion on my legs after shaving. It is a very rich lotion that repairs dry, rough skin and leaves skin looking smooth and shiny. Remember putting baby oil on your legs in high school? This is one step below that! It lasts all day… and my hubby loves cuddling up to my soft skin too.
Kim Gasper
Bellingham, WA

Phone 5s
I'm one of those lame people who, until recently, had not entered the land of technology. I used a flip phone up until this past June. It was getting challenging, and let's face it, pretty embarrassing, dealing with my brides and seniors without being able to text easily or have online access when I needed it. Enter the iPhone 5s. Where have you been my whole life?
Sigma 35 1.4 Art Series Lens:
I started photography for the same reasons so many have. To take photos of my kids. Last year was not a good year for our family, photographically speaking. Very little photographic evidence of our existence. My husband was not pleased when it came time to make our extended family calendar and we had zero representation. I purchased the Sigma 35 1.4 Art series lens early this year. It's my only non-Canon lens, and I adore it!
Think Tank Streetwalker Pro
While I use a Think Tank rolling bag for weddings, I use this backpack for sessions. No longer does my back ache because I'm trying to carry around some cute little bag slung across my body. It's holds everything I need for a session and a little bit more.
Folding Canvas Utility Wagon
Okay, maybe the backpack doesn't hold everything I need, especially if I'm bringing lighting with me. But this wagon does!! I can just throw in my backpack, lighting gear and even a light stand. The wheels are heavy duty and can be pulled through grass, fields, trails, etc.
Jessica Gwozdz
Bellingham, WA

Wilton Square Baking Cups
I don't actually bake in these.  Ha!  I use them inside the kids' lunchboxes to sort out parts of their lunch.  I put nuts or sunflower seeds, grapes, goldfish crackers, etc into them.  I like to use a Snapware container that is about the size of their lunch box, and these little square cups keep everything neatly sorted within that larger container.  It's my version of a DIY bento box.
Wen Cleansing Conditioner
Believe the hype.  I am a newly converted Wen girl.  It's hard to believe that one product can both shampoo and condition my hair.  If you color your hair, the color retention with this stuff is truly amazing.  Different scents/formula work best for different hair types so be sure to take the Chaz Dean product finder quiz.  Beware of knock-offs on Amazon.  They don't have the same ingredients as the real deal.
Olly Dog Pick Up Bag
This cute poop bag dispenser clips onto the handle of your dog leash.  Cute poop bag dispenser – there are four words I bet you never thought you would see strung together, huh?  It holds bags (of course), your house key, and other tiny essentials.  I like this it's a soft zippered pouch.  We previously used a rigid dispenser that also clipped onto the leash, but it opened up every time we dropped the leash on the ground.
Greenberg Smoked Turkeys
I learned about Greenberg turkeys becuase they were listed on Oprah's favorite things, and now they are definitely one of my favorite things.  A smoked turkey that shows up at your door ready to eat?  What could possibly be better than that?  The fact that it is uber-delicious and so tender that the meat falls off the bone just makes the idea of ordering this turkey all the more fantastic.  My daughter begs for this every Thanksgiving.
Jessica Holden
Sunnyvale, CA

Google Shopping Express
It's not available everywhere (I'm so sorry if you can't get it!), but it is AWESOME! I am still under my free trial period, but they knew what they were doing–I am hooked. You know those days when you need something at Costco, something else at Whole Foods, three things from Target, and Oh–your daughter needs more binder paper from Staples? Well, now instead of spending half the day (and twice the money, because I can never buy just three things from Target) running four errands, I just put it all in my Google shopping cart, select a convenient delivery window for the next day (sometimes even the same day, if I place my order early enough), and the stuff shows up! You can't purchase anything perishable, of course (since they have no control over when you might bring it in from the porch), but it has made my life immeasurably easier–especially right now when I am recovering from knee surgery and can't yet drive!
Netflix Instant Watch
I love this for our whole family–and I especially love that each of us can have our own profile that remembers our favorite shows and recommends others based on our preferences. And the best thing? In October, they added Gilmore Girls!
Peeps
You need to trust me on this one. Buy them, and stick them in your freezer. Then roast them, straight from the freezer, in your fireplace, BBQ, gas stove–wherever–as long as they start out frozen (hard to do while camping). What happens is pure magic: In less time than it takes to roast a perfect marshmallow, you get the perfect marshmallow goey softness inside, only this time it's with a carmelized sugar coating (tell kids to be careful–the sugar gets very, VERY hot). You're welcome.
Pama
I think the most perfect liquer ever created. Wonderful and sinful all by itself, but try it in lemonade, or a cosmo, or ginger ale, or Pepsi, or…
Pam Korman
Philadelphia, PA
Coffee Obsession- Nespresso Citiz Espresso Maker
ACoffee Obsession- Nespresso Citiz Espresso Maker: Anyone who knows me knows I love coffee. It really might be my favorite beverage. I was introduced to the Nespresso one day while I was wondering my local William Sonoma. One taste of the coffee and I was hooked. It is so smooth and the pressure of how the water is sent through the the machine creates this delicious foam that gathers on the top of the coffee. It is amazing! It will be the best cup of coffee you have had.  If you are a tea lover try Trader Joe's Candy Cane Green Tea.  For those of you who are tea drinkers, I wanted to share this one with you. This tea is only sold by Trader Joes around the holidays and it often sells out in a matter of weeks. That is how popular it is. I try to buy enough to keep me supplied for the year. It is the best mint tea I have had and it is decaf to boot. Add a bit of honey and it is truly perfection.
Yves Saint Laurent Rouge Volupté Shine in Rouge in Danger
I happen to be a bit obsessed with lipsticks and this one is my new favorite. I love this line because the lipsticks are light and glide on smoothly so they are easy to wear. They also have really good staying power for a non-matte lipstick. This red isn't too blue or too orange so it is really the perfect color. Plus it goes day to night and I love that versatility. .
Fuji x100s Camera
This camera deserves all the rave reviews it has gotten. I am truly amazed at the quality of the images it produces. Although it won't replace my DSLR, it is now my go to camera when I want something light and easy to take with me when we are traveling or having a family outing. It is perfect for bridging the gap between my iPhone and my full-frame camera.
Braun Oral-b Triumph 5000 Electric Rechargeable Toothbrush
I got turned on to this toothbrush by my daughter's orthodontist when she got braces earlier this year. He was raving about it so much I decided to try it and I was so impressed. I swear after just using it a few days my teeth looked like I had them whitened. It comes with a variety of head styles so there is something for everyone. I now have everyone in my house using it and they all love it too.
Sarah Mazza
Manassas, VA

Hold Fast Leather Goods – Moneymaker Strap in Water Buffalo Tan
I lust after this camera strap. It's on my favorite things because I will own it one day, lol. I did however get to experience it in all it's glory at one of the photo expos and I need this strap in my life.
Kraft & Jute
I have loved using their products to create my custom packaging. Everything is very simple and natural and I love the organic feel it has without being too plain. Their customer service is great and I've loved everything I've received from them so far…which I will post soon with my brand new packaging!
Urban Decay Naked Palette
Cause everyone's gotta get a little Naked! I love all of the Naked palettes but this one is definitely the one I use most. When I wear eyeshadow, which admitally is not very often, lol! I do however try to remember to just sweep a little of the first color (Virgin) across my lid to look awake. :
doTerra's Deep Blue Rub
I will literally slather myself in this after every session…it alleviates muscle tension almost instantly. LOVE. Like I can't even say enough about how much I love this. It's amazing. My husband is now used to my new almost daily fragrance. 

Lavishea Pear Lotion Bar
If I didn't know any better I'd eat this because it smells sooooo amazing. Love how it makes my skin feel. I first picked this up at a local yarn store and had to order more. Caution – leaving it in your car on a warm day will cause it to melt. It will harden again, but if you've not realized it melted, open it up and spill it all over yourself and your car you will most definitely have a big mess. True story.
Sarah Phillips
Boston, MA

Nancy Rose Grasshopper Crop leggings
I have tried every $100 plus pair of workout leggings on the market and Nancy Rose are my favorite! They're well made and so comfortable. The fact that they also make your bum look better than it actually does is also a plus!
Klara Kelly Headband Scarf
This is the best headband on the market. It's comfortable and no matter what you're doing, it doesn't slip. They're also super versatile. I wear them when I work and when I go out and get tons of compliments.
Alien Skin Exposure 6
I'm a big fan of Susan Stripling and after seeing her post over and over about this software, I decided to give it a try. I love it It works seamlessly with LR and PS and is easy to learn and incorporate into your workflow. The filters for creative apertures and light are fun and and can help take a beautiful image to the next level.
Lynne Rigby
Orlando, FL

Breakfast Sandwich Maker
Lifechanger!!  Walk into the kitchen, microwave the precooked bacon for 30 seconds, drop in an English Muffin or thin bagel, cheese, bacon and egg.  Wake up the little guys and get Lylah dressed, walk back to kitchen and the sandwich is DONE!!!  And it's delicious!! My nine year old can even do it himself!
Waterproof Housing  Sony rx-100
This kicked my butt back into thinking creatively and a huge push that I needed! And also an excuse to get in the pool with my kids. This housing works great and is a great price!
Rice Cooker
This absolutely falls in the same category as breakfast sandwich maker, but our schedule has been the craziest ever this year and I still have to feed these five kids – a LOT! This little guy is usually sitting next to my crockpot on my counter.  I can cook perfect rice or quinoa and steam veggies all at the same time, even when I'm carting kids to and fro.
Heather Rodburg
Bethlehem, PA

Dell UltraSharp 27 Monitor (U2713HM) 
My husband researched monitors for me last year and found this one for me to go along with the new Dell computer he got me for Christmas. This 27-inch monitor is amazing and I have no idea how I managed to edit photos before last December!
Copco Cups
I have quite the color collection of these cups–pink, green, purple, brown, etc. I can't seem to stop collecting them, but they are awesome. I always have my cup of tea in one of these cups, whether I am sitting at my desk or in my car
Lucky Jeans
I just discovered Lucky Jeans last year courtesy of my sister-in-law and they are just the best jeans ever. The material they use for their jeans is so incredibly soft and light and they have so many different styles to fit all different body types.
Kate Spade New York Wellesley Quinn (Black)
I found this bag at the Kate Spade outlet when I was visiting family in Naples, FL over Thanksgiving and I just adore it. I had been looking for the perfect black bag and this fit the bill. I have had so many people compliment me on the bag, some of whom have gone on to get the same bag themselves! It may just be a black bag, but it does have fun polka dots on the inside!
Catherine Rodriguez
Ft. Worth, Texas

PlanetBox lunchbox
Prepping the lunchbox has never been so easy (and kinda fun, too!). I love that I'm not chasing down plastic containers and trying to match lids. We have the Rover, which is perfect for my 7-year-old. She loves that it has decorative magnets and that she sometimes gets a mini treat in middle spot!
Roku 3
We cut the cable cord when we moved to Texas. Instead, we use the Roku 3 to stream free and subscription content from services like Netflix and Hulu. It's a very small device that gives us a ton of options. All in all, we still pay a fraction of what we used to pay with cable. We downloaded the Roku remote app to our phones, so it's also given us another way to control what the kids watch.
Think Tank Airport International V 2.0 Rolling Camera Bag
These days, I travel with at least three cameras and about six lenses and a speedlight so I need a rolling carry-on bag that is specifically made for photography gear. I am super impressed with how much I can fit into this rolling bag. It's easy to maneuver and seems very durable. It was definitely an investment but totally worth it!
Shutterbag Heirloom
This is the bag that I take with me on photo shoots—big and roomy. It's well-made and is full of pockets. I can easily carry my DSLR, 2-3 lenses and a speedlight. But I love that it comes with a variety of straps, including the ones to use the bag as a backpack. It's saved my back on more than one occasion!
Beth Ross
Brownsboro, TX

Tropical Traditions Coconut Oil Lip Moisturizers
I started using these lip moisturizers last winter. My lips have always been dry, especially during the winter. Nothing ever worked to moisturize them. My lips are so soft and smooth since I started using these. I will never use anything else, unless I try my hand at making my own.
Canon 15mm f/2.8 Fisheye
I have had my fisheye for about five years and it is my favorite lens. It really pushes me to be creative in ways I never would have been before. I see my surroundings in a completely different way through my fisheye lens.
Ninja Mega Kitchen System
I have literally only had this for five days and I am wondering how I ever lived without it. I have always had cheap blenders that cost about $29.95, but they don't work. I always had the problem where I would turn my blender on high and it would force an air pocket into the mixture and then the top half would just sit there and not get blended. My eyes about popped out of my head when I turned the Ninja on for the first time. It chopped frozen solid bananas without even hesitating. I burned the motor in my other blender trying to chop frozen bananas. I think I am going to become best friends with the Ninja.
Apple iPad With Retina Display
Not the newest version, but I love my iPad. I am a researcher. I love to research things. I used to sit on my couch and research things on my iPhone, but my husband noticed how it was hard for me to read the tiny screen. One day he came home from work and surprised me with an iPad. It has made my life so much easier. I can read articles, search for recipes and watch videos and movies without squinting.
Ashley Spaulding
Kansas City metro


Eureka Quick-up Vacuum 
It's kind of sad to love a vacuum as much as I love this one, but I do. I used to have a handheld cordless vacuum, but the battery never held a charge very long. I love that this one is so lightweight, easy to get out and to store, and that it is corded so that it's never without power. It's super easy to whip out after meals and clean around the table, and it works great on stairs so that I don't have to lug our big vacuum up and down. For a small vacuum, it's amazing how powerful this thing is!
27-inch iMac 
What can I say other than, "it's amazing!!" My love was not instant, I'll admit that, but it didn't take long, and it hit me hard once it did hit me. I cannot imagine editing images on anything else now. The monitor is just incredible, the system is so intuitive, and I absolutely love the keyboard. I'm so happy that I made the switch from a PC last fall!
Biolage HydraSource Shampoo and Conditioner
I have dry hair, even with regular conditioning, so my hair stylist recommended this to me, and I love it. It smells good, it doesn't weigh my hair down like a lot of hydrating products do, and I've noticed a lot fewer split ends since I started using it.
Katrina Stewart
Aberdeen, Scotland

Touche éclat 
I'm a convert to this. I'm a foundation and mascara girl at most, l don't have time for anything else but l make an exception for this product. It brightens up my face and l use it to contour my face, minimizing 'problem' areas. Radiance in a stick.
IPAD Car holder
Two kiddos in a car on a long car journey – this will save you. Stick their favourite movies on your iPad and attach it to this device. We got a good few hours of silence using this on our most recent car trip.
Steve McCurry – The Iconic Photographs
Full of colour and depth and likely to inspire a severe case of wanderlust. l have sat down with this book on many occasions and just lost myself in his colourful and evocative imagery. My absolute favourite photography book.
Origrami
There are so many instagram printing companies now and l definitely haven't used many of them but l love this company and their simple products. Beautiful instagram prints beautifully packaged.
Stacey Wiseman
Kentucky

Nourish Organic Hydrating and Smoothing Body Lotion
I'm obsessed with hand lotion. I desperately need it during those cold, windy winter months. I received two of Nourish Organic body lotion bottles in my stocking last year from Christmas and used both of them completely. My favorite of the two was Almond Vanilla…but I hope to test out a couple more options!
Crate & Barrel Viv Wine Glasses
If there is one thing we always need to buy (or ask for) this time of year, it's wine glasses. No matter how careful my husband and I try to be, we end up breaking several throughout the year. I'm not much of a stickler for a "white" wine glass and a "red" wine glass. But I do prefer my wine glasses to be delicate, light, and the right proportion in my hand.
Coco Eau de Parfum
I'm definitely not one to give fashion or make-up advice…but for a little glam, I never forget to spray Coco Chanel before I head out. This perfume is a classic anytime, but is definitely made for the winter for me. It has spice and richness but is not overpowering. I always feel a little sexier if I'm wearing this perfume.
Rocket Espresso Machine, Classic
This one may be completely over-the-top but I'm going to suggest it anyway because it is something that we could not live without. We are admitted coffee snobs. I can't tell you how many espresso machines we've gone through so with our last purchase we decided to step it up and go with an entry-level commercial grade espresso machine. This little guy is expensive, however, it saves us $4+ each a day in what we would spend at a starbucks or local coffee shop. Of course, we still have to purchase the espresso beans and milk…but I know we've saved money. Right?!?
Laurie Yuenger
Belleville Illinois/Lakenheath England

Cheetah Stands
Yes, I love a light stand. These are especially convenient on the go – when you pick up the stand the legs automatically come up and flat to the stand. Then when you set the stand down the legs fold out! This makes it much easier to move around and is perfect for keeping your off camera flash mobile.
Big Velocity Ball point pen (.7 if you want to specify the size lol)
These right so smooth and pretty I've even had clients comment about it while signing their paperwork!
Salted Caramel Cocoa
I love enjoying a cup (covered with whip cream) while editing – or just to warm up on a cold day.
Money Maker Holster
This stylish contraption allows me to comfortably wear both my camera bodies for a whole day of wedding photography, while also giving me a few extra cool points… hopefully. I can use all that I can get.